The trend of Racing Games is increasing gradually in India. People enjoy playing new Offline Racing Games on their Android Phones. The popularity of racing games is increasing among the youth. Yes most of the people look for Free Offline Racing Game,
Talking about today, there are many high graphic game apps available on the Play Store in Android samrtphone and when it comes to the best category Android games, the car game is populated with some excellent games that provide a great experience.
But, the number of numerous car racing games on Playstore put users in a dilemma as to which game is best for their needs and games with better quality, 3D effects and great graphics attract a lot of people like themselves.
That's why today in this article we are sharing 'Top 10 Car Racing Games Download (Top 10 Car Racing Games List For Android)' which is very popular.
These Car Games are quite popular as well as quite addictive, they are specially designed keeping users in mind and their interface will provide you a great experience in playing games.
By downloading Car Racing Games, you can enjoy Car Games in Android Smartphone or Pc / Laptop.
These are divided into two parts, the first list is for Serious Car Racing Games Lovers, which is Advanture Car Racing Etc. likes to
And the second list is mostly for those who are fond of Twist And Turns in Car Racing.
Best Car Racing Games Download – List Of 10 Top Car Racing Games For Android/Pc
1. Real Racing 3
High graphics have been used in this game, it has Luxury Cars, Winding Tracks as features. This game will provide Real Life Racing Experience.
This games is available on play store which is absolutely free has more than 100 million users.
2. Asphalt 8: Airborne
This game was made keeping in mind the users, in this game you can enjoy Full Of Real Dreams Car And Bikes Racing.
There are 190 High Performance Car And Bikes available in this game which you can Drive N Control according to your own.
Heart Thumping Mix BackGround Music has been used in this game which will relax you a lot.
This game was very much liked by the users, its rate is 4.5 and more than 100 million users and if we talk about this game, then Top Grossing Racing Game List is present in Play Store on 2nd Number.
3. SUP Multiplayer Racing
This game is specially designed for multiplayers, you can play this game together with your friends.
These games are very simple, in this you can Coustmize according to your own with the help of Custom Track Level Editor. This game is available for free on Play Store.
4.Traffic Race
3D graphics have been used in this game, in this 35 plus Diffrent Cars can be selected.
There are five types of game modes available in it. The controls of the car are very simple which can be easily handled.
5.Cars:Lightning League
This game has been launched by Disney Company, which is a very popular company in terms of games.
This game is very challenging as well as very addictive! The size of this game is 74 MB and is available on Play Store for free!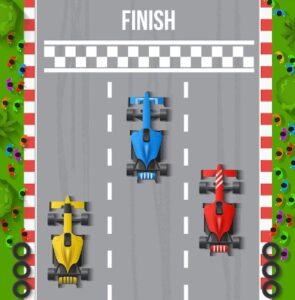 6.Stock Car Racing
This game is also very popular among the users. Users have given very good ratings for the Gameplay, Graphics and Controls of this game.
You can play this game in the form of single player and multiplayer like turning somewhere. Talking about the size of this Car Racing Game, it is only 56 MB!
7.Hill Climb Racing
This is new and very popular game. Its interface is very beautiful simple and the design is colorful. You get a lot of levels in this game.
In this you can enjoy Racing on Highway, Climb Hills, etc. This game is very exciting, you must try it once.
It uses good graphics, which get optimized for high end low resolution devices. In this game, the car and bike can be upgraded according to your choice.
8.CSR Racing Classics
Original CSR Offline Racing Games is more popular, but Classics Siquals is better in every sense. Playing this Car Racing Game is not very difficult, even new players can play it easily. This game is a good option for the players who like Car Racing Game. You can also play this game for free.
9. GT Racing 2
This car racing game is developed by "Gameloft", in this game you will feel real driving just like Rebel Racing and you can unlock many other cars by doing driver test. Talking about car models in GT racing game, many cars like Mercedes-Benz, Ferrari, Dodge, Nissan, Audi, Ford are included.
In GT Racing game you get 28 challenges every week in which you can improve your driving skills and win new cars.
10.Hot Wheels: Race Off
This game is very good for stunt lovers. There are many stunts in this game like Backflips, Wheelies and other stunts.
It has 25+ Car Collection with 50+ Real Physics Racing Tracks.
You can upgrade them to create a collection of Hot Wheels Cars and you can try Speed, Stunts through Booster. Single, multiplayer Modes are also available in this!
Conclusion:
All the games given here are available on the Play Store and are quite popular. They have been well liked by the users. All the games given here are up to Under 150 Mb and with this it is quite addictive.
Read Also: The Best Two-Player Board Games